Jerky has to be one of the best snacks anywhere. you can make it yourself or if you're like me and don't have the time. well there's a remedy for that. Congratulations You have just found it.
JERKY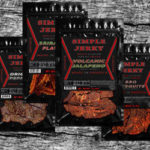 Here you will find a wide assortment of jerky in delicious flavors.So good it'll make ya want too slap yo mama!
don't I'm sure she'd whoop all the taste out of your mouth.
All kidding aside this is the absolute best jerky on the planet.
I've had the privilege of having some of this before I left Texas.
now that I'm in Oregon I order it online just can't stand being able without it when I want it.
you can order it anyway you want too. they have several options to satisfy your craving for this delicious delicacy. the different flavors include
💛 ORIGINAL PEPPERED💛MESQUITE 💛BACON 💛 ORANGE TERIYAKI 💛 
💛SWEET AND SPICY 💛  SRIRACHA  ❤ VOLCANIC JALAPENO ❤
❤ SRIRACHA BACON ❤ JALAPENO BACON ❤
Try a little Fine Wine with any of these Awesome flavors.
:they also have a great fund raising program that you can make some good money. who can resist great tasting jerky?
Looking for a fundraiser for your school, club, group or class? Well look no further, everyone loves beef jerky.
Why not try something new for your fundraiser that you don't have to keep cold and has no upfront costs?
one of the best-selling snacks in the US, it's made using only 100% American Beef.
competitively priced, and comes in 14 gourmet flavors?
It's Simple Jerkys Beef Jerky! Not only are there 7 beef jerky flavors to choose from.
We've had tremendous success with some local schools in the Schertz Independent School District.
If you're interested in working with us to help make your project or group some real money, please follow the link here
THANKS YOU FOR STOPPING BY. YA'LL COME BACK NOW YOU HEAR